Elena's Medi spa is proud to be a licensed retailer of the medical skin care line Zo Medical.
For over three decades, Dr. Zein Obagi defined the concept of skin health and developed skincare treatments and programs that can create truly healthy skin. Now with the introduction of ZO® Medical products, Dr. Obagi's next generation of therapeutic skincare products and treatments are exclusively available through skin health professionals.
Elena offers two facial peels by Dr. Obagi. here. 
Products, protocols and treatments exclusively provided by skincare professionals for a wide range of skin disorders and chronic conditions.
Under the guidance of Dr. Zein Obagi, ZO Skin Health, Inc. has developed a wide spectrum of therapeutic treatments for everyone regardless on skin condition, age, gender or ethnicity. Based on the latest advances in skin therapy technology – biotechnology complexes, plant stem cell components, and multi-therapy delivery systems – these products and programs have been optimized for your specific needs.
The ZO Definition of Truly Healthy Skin
Smooth | Strong | Firm | Even-Toned | Hydrated | No disorder
---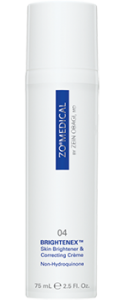 Brightenex
Skin Brightener & Correcting Crème Non-Hydroquinone
Bioengineered to target all three stages of skin discoloration through a patented, bio-vectored, microsphere delivery system. It is formulated to even skin color and tone, and recommended as a first course in treating hyperpigmentation.
BRIGHTENEX™ Multi-Action System
Dual pigmentation reversal with vitamin A and ascorbic acid-2 glucoside
Bio-active levels of vitamins E and C, and stachys officinalis antioxidants
Multistage glutathione, soy isoflavones, and N-acetyl glucosamine melanin inhibitor system
Retinol (1.0%) microencapsulation in an oleosomes delivery system
(75 mL, 2.5 Fl. Oz.)
---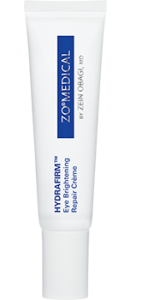 Hydrafirm
Eye Brightening Repair Crème This breakthrough multi-function formula is designed to both correct and prevent multiple signs of aging on the delicate skin of the eyes. Active Vitamin A and biomimetic proteins encourage natural collagen production to help restore skin's elasticity. Enzymatic vasodilators, caffeine and coenzyme A rapidly reduce puffiness. Skin's appearance is instantly firmed and smoothed.
Optical diffusers immediately help reverse the appearance of dark circles
Antioxidant retinol diminishes the look of fine lines and wrinkles
Shea butter restores suppleness, increases moisturization and replenishes skin barrier
(Net Wt. 15 g, 0.5 oz.)
---
Oilacleanse
Cleanser for Normal to Oily Skin
Dual-action cleanser exfoliates and cleanses skin targeting excess oil. Removes oil and other impurities to clean the skin and clear acne.
Reduces the factors that contribute to skin inflammation
Helps decrease the level of bacteria on skin surface
Promotes exfoliation
(240 mL, 8 Fl. Oz.)
---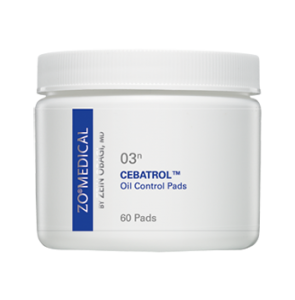 Cebatrol
Oil Control Pads
An invigorating acne medication to treat and prevent outbreaks. Its proven exfoliants effectively remove dead skin cells. These pads also contain an emollient complex to soothe skin and reduce redness.
2% salicylic acid for a maximum-strength acne medication
Mandelic acid helps reduce inflammatory agents that cause irritation
Triclosan provides additional antibacterial benefits
(60 Pads / 75 mL, 2.5 Fl. Oz.)
---
ZO GSR System: Normal to Oily

The ZO
®
 GSR
™
: Getting Skin Ready system will optimize the effectiveness of your ZO
®
 treatment program and is the first step in your protocol. This basic system includes three products; a cleanser, scrub and oil control pads.
FOAMACLEANSE

™
Gentle Foaming Cleanser for All Skin Types 60 mL / 2 Fl. Oz. Cleanse your face twice a day to remove impurities, and refresh and revive skin.
VITASCRUB

™
Invigorating Foaming Scrub Net Wt. 56.5 g / 2 Oz. Scrub your skin once a day or less frequently as desired to remove buildup and activate skin cells.
CEBATROL

™
Oil Control Pads 60 Pads, 75 mL / 2.5 Fl. Oz. Oil control is one of the best ways to fight aging, breakouts, and keep skin healthy and vital. Use twice a day.
---
ZO Multi – Therapy
Designed by Zein Obagi, MD to treat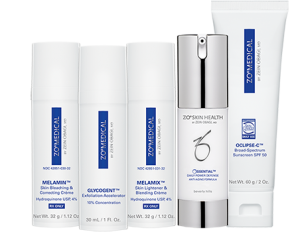 several skin conditions:
Hyperpigmentation.
 Treat moderate to severe hyperpigmentation, especially melasma. Recommended as a starting point for treating melasma.
Severe Texture Damage.
 Treat severely dry, dull, rough and leathery textured skin to help soften skin and restore a smooth, healthy glow.
Sun Damage.
 Treat severely dry, dull, leathery textures with visible sun spots and damage.
Pre/Post Procedure Skin Conditioning.
 Start on this system 4-6 weeks before office procedures, and use for 12 weeks afterwards for improved patient outcomes and longer lasting results.
General Skin Health Restoration.
 Use this system to improve the overall quality, health and appearance of the skin.
MELAMIN

™

 (Net Wt. 32 g / 1.12 Oz.) Skin Bleaching & Correcting Crème, Hydroquinone USP, 4%
GLYCOGENT

™

 (30 mL / 1 Fl. Oz.) Exfoliation Accelerator, 10% Concentration
MELAMIX

™

 (Net Wt. 32 g / 1.12 Oz.) Skin Lightener & Blending Crème, Hydroquinone USP, 4%
Ossential

®

 Daily Power Defense (30 mL / 1 Fl. Oz.)
Oclipse-C

™

 (Net Wt. 60 g / 2 Oz.) Broad-Spectrum Sunscreen SPF 50
5 Product Regiment
For more information on Zo Medical Skin care line visit their website at ZoSkinHealth.ca Please contact Elena for more information on the Zo Skin care line for purchase.